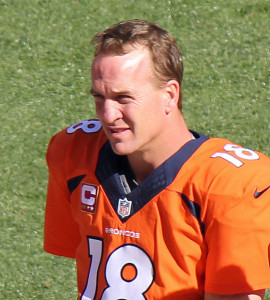 Peyton Manning made his big announcement to the surprise of no one that he is riding off into the sunset.  His days of playing football are behind him, and who can blame him?  He has been to the Super Bowl four times and won twice.  He has played for two teams and been successful with both.  Also, in spite of the media coverage to the opposing view, he remains one of the more popular players in the league.
As I listened to the same highlights of the press conference that so many of us heard, I came to the conclusion that one must come to when you listen to one of the all time greats give up the game they love, this man was able to live out his passion everyday.
Who else can say that they got to go and do what they loved every single day for 18 years?  Can any of us?  Peyton Manning can and he did time and again.
I was not a fan of either team that he played for, so what I did was mainly look at him as a quarterback for a team that mine was playing.  He was a guy that, in the early part of his career, was beatable, if you knew what to look for.  Then he was a guy that improved on himself so much that he was able to be almost unflappable at the position, win or lose.  Who of the current crop of NFL quarterbacks can we say that about?
The reason for his success was obvious on the field.  It was like having a coach on the field that also played.  He could read a defense like no one else.  His ability to audible to something that helped his team nearly every single time was beyond amazing.  His humility in victory and defeat was something that was laudable from anyone that loves the game and wants their kids to get something more than just the x's and o's.  Peyton Manning, whether he was or not, came off as the real deal.  I tend to believe that he is the real deal, personally.  Give it a few years and he will head to the hall of fame on the first ballot.  Hey, give it a couple of months and both Colts and Broncos fans will be working to find a way to get him there earlier than that.
As he heads away from the game he loves, he will have plenty of options.  I would not be surprised at all to see him coaching, or commentating on the game.  Can you imagine him on the panel on CBS' coverage of the games on Sunday?  Yes, I know the desk is already overcrowded with former players and coaches, but why not one more?
Still, I do have to commend the man for this.  He illustrates what it is like to work with passion on what you do.  He shows us what so many of the great ones have and that is the ability to dazzle us one minute and leave us all breathless the next.  Peyton Manning did that for the NFL and looking toward the present and near future, who can we point to that will take up that mantle?  I think it might be a really long time before we see someone as great and as humble as he is approach the game with the passion and reverence that he did.
As I said earlier, I was not a fan of the teams he played for, but he transcended that for me and in the end, I found myself rooting for his success.  Indeed I still do as I raise my glass along with the rest of you to a man that has helped to redefine the game again.  He said it best in his last words at his press conference, "God Bless Football."  God bless it, indeed.